FURNITURE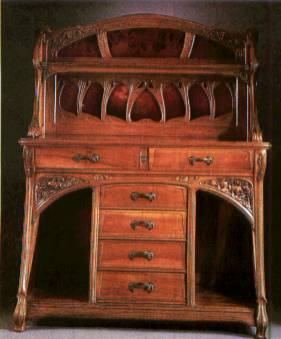 A walnut, fruitwood and cameo glass sideboard, designed by
Jacques Gruber of the Nancy School, c.1900
Prior to mechanization, few could afford co buy experimental furniture, and manufacturers tended to produce traditional, practical pieces. However, from the end of the 19thC, they began to adopt the newly-developed mechanical methods to facilitate the hand-making process rather than mass-produce lower quality furniture; in London, Liberty sold affordable, mass-produced furniture that was nevertheless hand-finished and of high quality.
The French, the foremost exponents of the Art Nouveau style, adapted the organic elements of Arts and Crafts to sculptural Art Nouveau forms, rather than use the strict carpentry forms of the English. There were two distinct schools of French Art Nouveau, one based in Paris, the other in Nancy. The Nancy School, epitomized by the work of Emile Gallé (see here) and Louis Majorelle (see here), was more prolific and consequently the more readily synonymous with Art Nouveau design; it was they who first used marquetry panels, often created from local woods and depicting local flora and fauna.
The sweeping, fluid forms and asymmetrical decoration associated with the Paris school were inspired by the ideas of Georges de Feure and Hector Guimard (see here), whose work was mainly sculptural, often relying on just veneer for decoration. Some pieces were produced with upholstery as the only decorative element.
Although some British furniture of the period can be described as innovative in form, it lacked the originality and sinuous quality of French designs. Liberty furniture, typical of that preferred by the more avant-garde British buyer, harked back to the solid, rustic appeal of the Arts and Crafts forms produced from 1880 onwards. Decoration revealed little external influence, and was often limited to brass or copper strapwork embossed with stylized flowerheads or the like. A series of British-made vitrines and cabinets exist in an architectural form and inlaid with Continental-inspired floral panels, but there is a strong, typically British symmetrical emphasis to the designs. Major English designers include Charles Annesley Voysey (see here), Ernest Gimson and the founders of the Cotswold School, Ernest and Sidney Barnsley (see here).
Liberty furniture can be seen as a diluted version of the Glasgow style made famous by the likes of C. R. Mackintosh (see here) and E. A. Taylor (see here). Mackintosh was admired by the Vienna Secessionist designers and architects. Josef Hoffmann and Koloman Moser (see here), produced a whole range of objects, including furniture, using the clean, often severe lines so typical of Mackintosh, and established a distinctive style within the parameters of this new approach. Both Mackintosh and Hoffmann designed furniture for tea rooms, Mackintosh in Glasgow. Hoffmann in Vienna.
In Italy, Carlo Bugatti (see here), worked in a highly original style with a distinctive North African flavour. Cords and tassels, applied metal and inlaid woods, often in medallion form, decorate his unusually constructed designs.
European Art Nouveau had little effect in the United States, where furniture remained simple and undecorated. Frank Lloyd Wright's influential "Prairie" style (see here), epitomized hy solid pieces in oak and other local woods, was an interpretation of the British Arts and Crafts style. Other important American names include the Greenes (see here) whose work reflects Japanese forms, and the Stickleys (see here).
Of British furniture, any piece with a Liberty label is particularly sought after. Otherwise, a reputable designer or maker will always increase the value of a piece. However, of the French, only Majorelle and Gallé commonly signed their pieces, and the sheer number of cabinet-makers in operation at the time has led to a large number of unidentified pieces on the market. Large, commissioned furniture is rare and, for most people, prohibitively expensive. Smaller, more functional pieces tend to come up quite rarely; tables are hard to find and beds scarce, but chairs are numerous although often in need of reupholstery, this does not seriously reduce their desirability.
| | |
| --- | --- |
| | |