Hoffmann's designs
Hoffmann designed all kinds of furniture, including tables, chairs and light fittings. His work uses severe, geometric forms rather than the sinuous forms of other Art Nouveau designers. The Sitzmachine (sitting machine), in the main picture, typically combines simple oval and rectilinear forms. This example is adjustable the knobs determine the angle of incline. Others have upholstered backs. This piece is made from beechwood, but Hoffmann often used more costly limed oak, mahogany and ebonized woods. The bases of some of his pieces are covered in beaten brass.

Some of Hoffmann's furniture is made in bentwood, that is, laminated or solid wood steamed and bent into the required curvilinear shape. Hoffmann's bentwood pieces typically have smooth or gently rounded corners. This simple bentwood table, above, is an example. It was made to Hoffmann's design by Jacob and Josef Kohn, one of the largest Viennese furniture manufacturers. Kohn, and another large Viennese firm, Thonet Brothers, executed the majority of Hoffmann's designs. Unlike many Wiener Werkstätte designers, Hoffmann took advantage of mass production techniques.

Josef Olbrich (Austrian, 1867- 1908)
Olbrich's designs are not as severely geometric as those of Hoffmann and Moser, but are lighter, and feature formalized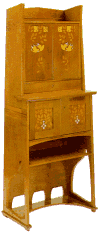 decoracive motifs. Olbrich's walnut cabinet, entitled Herbst (Autumn), above, is made up of strong symmetrical elements. Decoration is restrained, consisting of panels inlaid in frutwood and mother-of-pearl, and carved lines along the side.

The Wiener Werkstätte made several mantel clocks. The strongly geometric example above, by Josef Urban, is made of such diverse materials as walnut, silver plate, ivorene, enamel and agate.

Marks
Wiener Werkstätte furniture is seldom signed. Attribution is usually made using contemporary photographic or original design material.