Louis Majorelle (French, 1859- 1926)
Majorelle took over his father's cabinet-making business in 1879. His early work was in a Rococo style but as a member of the Nancy School he was influenced by Gallé' (see page) and adopted Art Nouveau forms, creating an individual, elegant style. He favoured exotic and strongly grained woods, such as mahogany, and often used gilt bronze mounts. Like Gallé''s, his decoration was based on sinuous forms and natural motifs.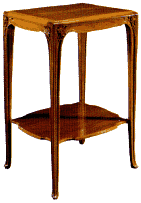 On sculptural pieces, such as the carved mahogany side table above, decoration is often restricted to supports. These are reeded here, but. fluted examples are also
common, and legs usually terminate in slightly outswept feet. The wood grain is used to complement the design and to provide decoration.
* Mounts on sculptural pieces are often integral to the design.

Typical features and marks
The credenza in the main picture has has symmetrical form and inlaid decoration common to Majorelle's architectural pieces. Also typical are the short, solid feet and the supports (both embellished with metal mounts), the back panel, fitted with pleated silk, and the chicory leaf motif. There is an inlaid marquetry signature. Most of his work is marked, often on doors, and may be branded, stamped, inlaid or carved.

Collecting
Majorelle worked partly to commission, but also produced designs for a catalogue. Even so, his work is rare. Chairs with original fabric command a premium. As well as pieces in Majorelle's style, some unmarked items exist that may well have been designed by him. His work is well-documented and if in doubt collectors should refer to a documented example. His style was often imitated, which can be confusing to collectors, but fakes are so far unknown.