Emile Gallé (French, 1846-1904)
Known equally for his exquisite glasswares (see here). Emile Gallé's furniture is considered to be pure Art Nouveau. His inventive furniture designs heralded the rise of more floral decorative forms. He drew his inspiration from nature, particularly the flora and fauna of his native Lorraine. Gallé's work also Ied to a revival of marquetry.

Gallé's furniture
Gallé treated wood as a plastic medium, and did not try to follow the grain. His designs have a sculptural quality, as in the legs of the table in the main picture, which combine plant and animal forms, and show Gallé's fondness for dragonfly motifs. The tiers feature inlaid flowers and leaves.
* Designs include occasional furniture, as well as dining and bedroom suites. Some pieces are inlaid with verses (see here).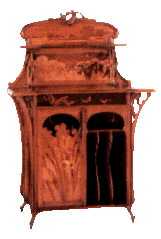 Gallé produced some novelty forms, such as the music stand, above, which adapted elements from other designs. This piece, from c.1900, is reminiscent of a Regency chiffonier, although it contains innovative variations that give it a strikingly original appearance. Characteristically, decoration appears on the sides and back as well as on the front. The quality of the fruitwood marquetry rivals that of the 18thC ébénistes. The motifs, of flowers and butterflies, are typical.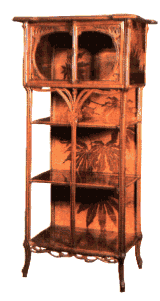 The form of the mahogany vitrine above, is simple, with emphasis on the inlaid and carved decoration, which itself is restrained. The shelves are undecorated. Larger pieces such as this (62in/159cm in height) generally command higher prices.

Identification
Gallé signed his work, usually in a corner, and often in elaborate inlay. After his death, the firm produced more traditional pieces, often with Iess inventive inlay. These are also signed "GALLÉ". However, they lack the originality of Gallé's own designs, although they command high prices in their own right. The craftsmen who executed his designs have not so far been identified.

Fakes and copies
Fakes and copies are not known to have appeared on the market. On occasion, some later pieces have been mistaken for copies, as a result of their restrained form.

Condition
Most of Gallé's furniture has survived in excellent condition: many pieces were commissioned, and owners have tended to covet each one. Even marquetry was laid so precisely as to have usually survived intact.