Amstelhoek (1894-1910)
Dutch ceramics, metalwork and furniture workshop.

Artificers' Guild (1901-1942)
London-based metalworking firm founded by Nelson Dawson.

E. Bakalowits & Söhne (est'd 1845)
Viennese glass retailer of avantgarde pieces by designers such as Koloman Moser. (see here)

Barnsley, Sydney (1865-1926), and Ernest (1863-1926)
Furniture designers and cofounders of the Bath Cabinet

Makers Co. Ltd.
Pieces unmarked. (see here)

Bayes, Gilbert (1872-1953)
English sculptor in a style that combined Art Nouveau and medieval influences. (see here)

Bergman, Franz (dates unknown)
Austrian sculptor of cold-painted bronzes.

Bing & Grondahl Porcellaens-fabrik (1853-present)
Danish producer of porcelain and stoneware in the 18thC and Art Nouveau styles. (see here)

Bing, Siegfried (1838-1905)
Parisian publisher, art dealer and sponsor. (see here)

Boucheron, Maison (1858- present)
Parisian jewelry firm; produced designs mainly for the French and American markets.

Bouval, Maurice (d.1920)
French sculptor and metalworker; made bronze lamps and busts of female figures. (see here)

Bugatti, Carlo (1855-1940)
Italian furniture designer and craftsman. (see here)

Bugatti, Rembrandt (1885-1916)
Italian animalier known for bronze wildlife sculptures. (see here)

Burgun, Schverer (1811-present)
The only German producer of Art Nouveau cameo glass. (see here)

Carder, Frederick (1864-1963)
British-born glass designer for Stevens & Williams and later Art Director at Steuben. (see here)
Chalon, Louis (dates unknown)
French sculptor, whose wares usually feature a female figure. (see here)
Chéret, Jules (1836-1932)
French commercial graphic artist credited with fathering the modern poster. (see here)
Christian, Desiré (b.1846)
French glass designer. Chief artistic designer ar Burgun, Schverer; opened firm with his brother and son. (see here)
Colenbrander, Theodorus A.C. (1841-1930)
Dutch porcelain decorator and designer for Rozenburg.
Colonna, Edward (b.1862)
German architect and designer associated with the Paris School.
Cotswold School
Association of English furniture designers, led by Ernest Gimson and the Barnsleys, (see here)
Couper, James & Sons (dates unknown)
Scottish glassmaking firm known for "Clutha" glass. (see here)
Dammouse, Albert (1848-1926)
Glassmaker and master of pâte-de-verre. Mark: impressed. (see here)

Daum Frères ( 1875-present)
Nancy glassworks founded by brothers, Auguste and Antonin made; fine vases and lamps. Marks: relief cut, etched or painted. (see here)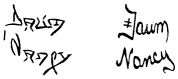 Dawson, Nelson (1859-1942)
English painter, silversmith, jeweler and co-founder of the Artificers' Guild.
de Feure, Georges (1868-1928)
French furniture, metalwork, fabric and ceramics designer associated with the Paris School style of Art Noveau (see here). Mark: signature, either painted or etched.

Denislow, William Walter (dates unknown)
American metalwork designer associated with the Roycrofters.
Doat, Taxile (b.1851)
French porcelain designer and decorator for Sèvres. (see here)
Doulton & Co (1815-present)
London-based producer of stoneware and porcelain figures. Marks: printed, impressed or painted. (see here)

Durand, Victor (1870-1931)
American glass artist. Produced primarily iridescent wares for the Vineland Glass Co.
Ellis, Harvey (1852-1904)
English-born architect and designer associated with Gustav Stickley.
Farhner, Theodor (1868-1928)
German jeweler; mass-produced fine jewelry in an abstract Art Nouveau style. (see here)
Feuillâtre, Eugène (1870-1916)
French designer of jewelry; specialized in plique-à-jour enamel. Mark: engraved, (see here)

Fisher, Alexander (1864-1936)
English enamelling artist known for fine silver plaques. (see here)
Foley (later Shelley) (1892-1925)
Staffordshire pottery; producer of decorative earthenwares and bone china. (see here)
Fouquet, Georges (1862-1957)
Innovative French jewelery designer. (see here)
Gaillard, Eugène (active 1895-1911)
French furniture designer and associate of the Paris School.
Gaillard, Lucien (b.1861)
French jeweler and silversmith, famous for fine hand-made work in unusual materials. (see here)
Gallé, Emile (1846-1904)
French designer and glass-worker; considered the greatest of glass craftsmen. (see here)
Gilbert, Sir Alfred (1854-1934)
English sculptor who marks the first transition from the Victorian style to Art Nouveau. (see here)
Goldscheider, Marcel (1855-1953)
Viennese ceramics manufacturer; mass-produced Art Nouveau vases.
Gorham Corporation (1813-present)
Largest 19thC American silver producer. (see here)
Grasset, Eugène Samuel (1841- 1917)
Swiss-born architect, designer and posterist. (see here)
Greene Brothers
American furniture designers. Worked to commission, mainly in Honduras mahogany. (see here)
Grueby Faience Company (1894-1930)
Boston-based producer of tin-glazed earthenware and faience. (see here)
Guild of Handicraft (1888-1908)
British silverworking guild famous for silverware. (see here)
Gurschner, Gustav (b.1873)
Bavarian sculptor and metalworker. (see here)
Handel (1885-1936)
American glassworks. (see here)
Harris, Kate (active c.1890-1910)
English metalwork designer in the Art Nouveau style. (see here)
Henry, J.S. (c.1880-c.1900)
London cabinet-maker. (see here)
Hoffmann, Josef (1870-1956)
Architect, designer, and founder member of the Vienna Secession.
Hueck, Eduard (est'd 1864)
German metalwork firm. Some wares designed by Olbrich.
Hutton, William &. Sons (1800-1923)
English producer of silver, pewter and Britannia metal. (see here)

Jensen, Georg (1866-1935)
Danish silversmith and sculptor. (see here)
Kayser Sohn (1894-c.1904)
German metalwork foundry. (see here)
King, Jessie Marion (1876-1949)
Scottish illustrator and designer of ceramics and jewelry, including designs for Liberty's Cymric range.
Kipp, Karl (dates unknown)
American metalworker and designer in the Secessionist style. Director of the Roycrofters from 1908.
Knox, Archibald (1864-1933)
Manx metalwork designer, notably of Liberty's Cymric range. (see here)
Korschann, Charles (b.1872)
Bohemian sculptor, mainly of female figural bronzes. (see here)