SILVER, JEWELRY AND METALWORK
RENÉ LALIQUE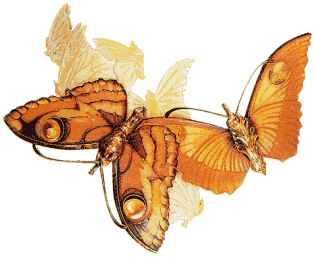 A blond horn and enamel butterfly stomacher
1900; ht 4-5in/10-12.7cm; value code A

Identification checklist for the jewelry of René Lalique
1. Is the piece of fine quality?
2. Does it display a variety of constructional and decorative techniques?
3. Are there strongly naturalistic elements?
4. Does the piece combine precious and semi-precious materials?
5. Is it stamped?
6. Is use made of stones, or blister or baroque pearls?
7. If a pendant, is the chain innovative and integral to the design of the whole piece?
8. If in the form of an insect, do wings incorporate plique-a-jour decoration (see p.133)?
9. Is the piece colourful?
---
René Lalique (French, 1860-1945)
René Lalique was the foremost Art Nouveau jeweler and silversmith. His jewelry ranges from hat pins to the massive corsages designed for Sarah Bernhardt, one of his most important patrons, and includes chokers, bracelets, pendants, stomachers (worn over a bodice), brooches and hair combs. He executed few of his designs most were hand-made by other craftsmen.
Until the late 19thC the primary function of jewelry was to display wealth; Lalique revolutionized the art by emphasizing the sculptural quality of jewels. Fitness for purpose was an important factor and, although Lalique made use of precious materials, he would only do so if they contributed to aesthetic quality. It was for aesthetic reasons that he combined materials of different intrinsic values. Tortoiseshell, horn or glass might be set within a frame of precious metal, or studded with precious and semi- precious stones such as pearls, opals or moonstones.
---
Decorative techniques
Lalique used several decorative techniques; the butterfly stomacher in the main picture, carved from one piece of blonde horn, is enamelled in various tones of brown. Other decorative methods include pâte-sur-pâte (see here), champlevé enamelling and pligue-à-jour enamelling (see here), usually found on the wings of his insects. He also used oxidized silver and carved gemstones. Decorative techniques are often used to constructive effect: the strong colouring and definition of the larger butterfly here, set against smaller, paler butterflies, suggests a three-dimensional effect.
Lalique began experimenting with glass in 1902 and some of his later Art Nouveau jewelry incorporates moulded glass, sometimes with glaze effects. Although his best glasswork belongs primarily to the later Art Deco period, much of this echoes his work from the golden years of Art Nouveau.

As well as the use of opals, this pendant above displays several features typical of Lalique's work: the multiple form is common to his pendant designs and the neckchain is interspersed with opal beads. Other chains may consist of bar links, possibly finely enamelled, or of beads of other types of stone, such as moonstone.

Chains are usually integral to the design of the piece. This piece retains its original presentation box, which will add to its value. Lalique's pieces are famous for their inspired composition.

His designs are typically symmetrical, often with two supporting elements or motifs framing a design without being its central feature. The symmetrical enamelled peacocks in the pendant above provide a balanced frame for the central triangular opal; in their beaks they hold the pearl terminal of the neckchain, whilst from their tails hangs a decorative pearl drop.

* Some pieces are reticulated, adding a real sense of motion.

Signatures
Most early examples of Lalique jewelry are engraved "R Lalique", perhaps accompanied by "France" and a model number in matching script. The L was sometimes elongated (see here for marks).

Fakes
A number of recent discoveries have been considered to be extremely dubious, which although of good quality, often fall short of the superb craftsmanship of known Lalique pieces.

* Not all Lalique's pieces were one-offs; some were made up a number of times.

| | |
| --- | --- |
| | |